Celebrate National Veggie Month with Chef Mayra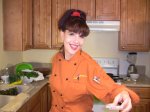 When: Saturday, October 16th, 1-3pm
Where: Sunflower Market, 4020 S. Rainbow Blvd., Las Vegas, NV 89103
Join Chef Mayra for amazing ideas for using October food in season.
Fall Harvest Festival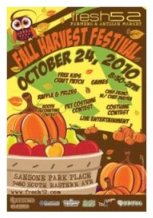 When: Sunday, October 24th, 8:30am - 2pm
Where: Sansone Park Place, 9480 S. Eastern Ave.
Cost: Free
Join fresh52 for their Inaugural Fall Harvest Festival featuring live entertainment, costume contest, kids & pets, booth decorating contest, pumpkin decorating contest, FREE kids art park, games, raffle, prizes, kid's trick-or-treating to the booths and more!
A Fall Cooking Demonstration using local farm herbs and produce by Chef Mayra will be featured.
The leaves are changing colors, and the mornings are getting crisp. It must be fall here in the northern hemisphere! The cooler weather usually means a change in out diets as summer's lighter fruits and veggies give way to more hearty, fall-themed foods. Goodbye, tomatoes; hello squash and kale! Here are some recipes to help you take advantage of fall's bounty.
Apple Crisp
Apple picking is one of my favorite fall activities. What better way to make the most of your harvest than baking up a vegan apple crisp?
This apple crisp is just perfect. Sweet and crunchy and spiced just right, I like it served warm with Vanilla Bean Soy Cream from Atomic # 7.
prep time: 20 minutes
|
cooking time: 45 minutes
|
makes 8 servings
Equipment:
9 x 13 baking dish (preferably glass)
Wha'Cha Do
For the filling
4 lbs apples (I use Roma or FIJI)

1/2 cup light brown sugar

1/2 cup sugar (I use Florida Crystals)

1/2 cup apple juice or water

1 tablespoon arrowroot powder (cornstarch will work too)

1 teaspoon ground cinnamon

1/2 teaspoon ground nutmeg

1/2 cup raisin (optional)
For the topping
1 cup quick cooking oats (not instant)

1/2 teaspoon baking powder

1/2 teaspoon ground cinnamon
Wha'Cha DO:
Peel, core and thinly slice apples. Dissolve the arrowroot in the apple juice or water. Set aside.

Place apples and raisins in the baking dish, add sugars and spices and combine everything well (you may need to use your hands to do this).

Pour arrowroot mixture over everything.

To prepare the topping, in a medium bowl, combine all dry ingredients.

Add oil, soymilk, and vanilla, mix well.

Crumble topping over the apples.

Bake for 45 minutes.

Remove from oven and let cool at least 15 minutes before serving.
Your child can assist by scooping all the seeds and stringy bits out of the pumpkin and also selected which ingredients we'd include inside. You can really add anything you like to the oats - dried fruit, nuts, maple syrup. You name it. No matter what you pick, I can guarantee it' will taste like fall.
When the oatmeal is done you can put this beautiful pumpkin right in the center of the breakfast table. Precioso! When doling out scoops be sure to scrape up some of that baked pumpkin goodness with the spiced oatmeal. Now for the recipe…
THE BEST Baked Pumpkin Oatmeal
Prep Time:
15 mins
Cooking Time:
40 mins to 1 hr
Wha'Cha Need
1 tablespoon melted VEGAN butter or expeller pressed canola oil

1 teaspoon baking powder ( aluminum free)

1/2 cup unsweetened apple sauce

1 teaspoon ground cinnamon

2 tablespoons brown sugar

2 cups old fashioned oats

3/4 to 1 cup alomond milk (depending on how "milky" you like your oatmeal)

1 granny smith apple (peeled + diced small)

extra brown sugar for sprinkling

extra Nut milk for splashing (optional)
Wha'Cha Do
Preheat oven 375 degrees. Start by carefully cutting the top off your pumpkin and cleaning the insides out. (Save the seeds for later – recipe to come!)

Combine all remaining ingredients (except the sugar for sprinkling and milk for splashing) in a large bowl.

Stir well and divide batter evenly between the two pumpkins. Sprinkle lightly with brown sugar.

Place both pumpkins on a cookie sheet and bake for 45 mins to an hour or until pumpkin is soft enough to scoop and oatmeal is done.

After it was done, we added a splash of milk.

Remember: When doling out scoops be sure to scrape up some of that baked pumpkin goodness with the spiced oatmeal.
Chef Tips: cooked the pumpkin with the top off for the first 20 mins and then put the top on loosely (allowing for steam to come out) for the rest of the baking time.
If you choose to cook with top on, make sure that the stem soaked in some water and that it is far enough away from the heat source. You can also cook it with the top off the entire time – the oatmeal will still come out tasting great.